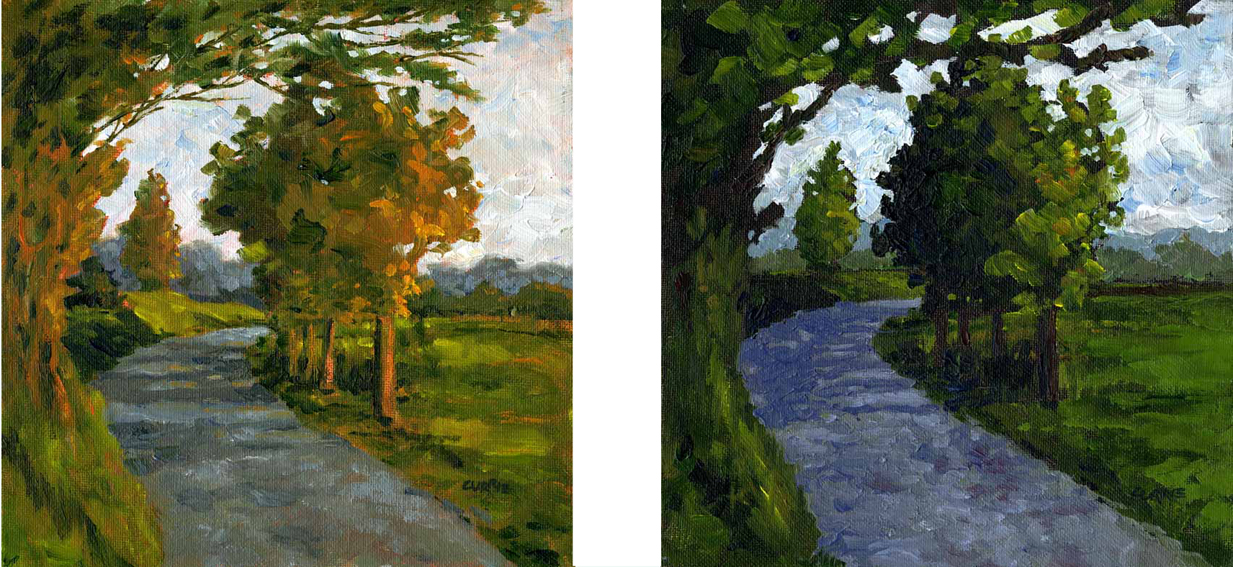 This is a diptych, a pair of paintings––each 8" x 8" before framing––painted in sequence at the same site in Southern France.
AU-DESSUS DE VALENCE I:
My sister, Dawn, lives in the South of France, in the city of Valence. When I go to see her, we often paint together. One autumn afternoon, we went for a walk up to a plateau above her neighborhood, a few kilometers from the heart of town and a world away. The quiet farmland was a delightful discovery, as was the golden afternoon light as it began to caress the landscape. I had just begun painting on colored backgrounds and this day, I used an ochre-orange wash that triumphed both the beginning autumnal shift of the colors and the warmth of that sky as the sun began to descend. It also is one of very few paintings that I liked within minutes of beginning. It was and is a delightful surprise.
AU-DESSUS DE VALENCE II:
This is a companion piece to a painting done in the exact same spot, a plateau above my sister's home in southern France. In the first one, I used a warm ground that illuminated the sunset and the changing hues of autumn. This time, I made a radical shift and used a black ground, creating a dramatic mood that is at once sun washed and uniquely dark. I like the strength and intensity here, bright hues with dark undertones. This painting was as much a surprise in its completion as it was in its inception. Sometimes, paintings just seem to come out of one's brush as if called forth; it isn't the artist at work but the art coming to life. This is one of those paintings.