Shhhhh. I have a secret.
This relief was originally done as a sand cast, molten bronze poured into a negative relief carved out of a block of man-made sandstone. It was directly inspired by a plein air painting I did in a lovely grove of aspens at the 7D Ranch outside of Cody, WY. I really liked the original casting, so I made a mold and have pulled a limited edition of bronzes from it.
But that's not the secret.
Here it is, but you have to keep it quiet.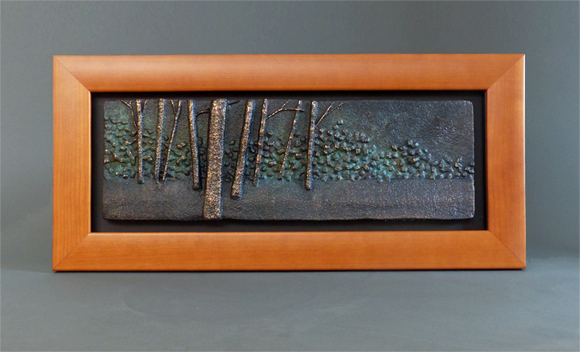 In 2013, I received a call from the office of the Secretary of Protocol for the Secretary of State of the Most Powerful Nation on Earth (which shall remain nameless). They were looking for a personal gift to be given by their Chief Executive to a senior official in the government of a Sweet Eden of a Nordic country. They were looking for an American artist with that national heritage and decided to look for same in Minnesota. That led them eventually to the Society of Minnesota Sculptors, of which I am a member, and our president, Thomas Zahn. Tom generously gave them the name of several artists, including me, and I was contacted directly thereafter. I actually do have that national blood in me on my father's side, so it was Coincidence at Work. We chatted, they interviewed me, ran a background check, and selected this sculpture. Because it was going to be a personal gift from Him to That Official, I had a custom solid cherry frame made for it as well as a black shadowbox behind it into which the bronze relief was mounted.
My fabulous wife and partner, Jeannine, who is an amazing seamstress, volunteered to make a presentation bag to enclose the complete, framed piece, and made it out of olive Ultrasuede with three tie closures. Lovely!
It went off to The Capitol City and eventually crossed the ocean with Him and was presented in person during a personal visit with That Official.
Pretty amazing and unbelievable, right? But it's all true. I was asked not to promote all of this, as it was a personal and not State gift, so I have very carefully deleted all names and identification of the people and countries involved…
And a funny sidebar? I was asked to give them a reduced-price deal, because that Very Large and Powerful Country's State Department didn't have a lot of money to spend…